CTI Senior College Open Day 2020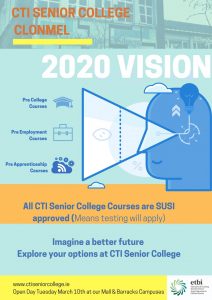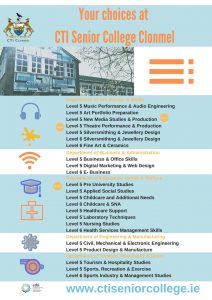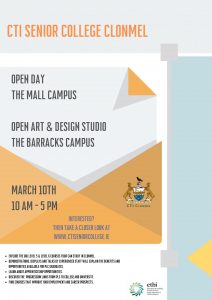 Two new courses launched this week in CTI
This week saw the return of the Further Education sector here in CTI Clonmel. As well as running our usual courses we were excited to launch two new courses this year: Product Design and Music Performance and Audio Engineering.
Product design is a course where students will be working with a variety of different materials (Wood, metal, plastics) to enhance/design everyday products. It is ideal for anyone who wants a taster of product design, delve into the fields of architecture, engineering,CAD, furniture design or apprenticeship pathways such as furniture making, carpentry or silver smithing.
Music Performance and Audio Engineering is ideal for anyone who wants to study sound engineering, enhance their music ability for third level.
We have shown that there is a market for these courses and hope to grow them further in the coming years.
Apprenticeship Pathway launched in CTI Clonmel
Below is an article that featured in the Nationalist on the 11/09/19.
8th November 2016
Kick Start Couching Course with Sports Leisure and Recreation PLC group, fantastic day, great experience for PLC students.