Course Description.
This full time Post Leaving Cert (PLC) course is designed for both FETAC/QQI Level 5 graduates who wish to continue their studies, and for childcare supervisors seeking a formal qualification. It helps develop interpersonal and leadership skills while promoting children's well-being, development and learning. Students who complete this course will be in a position to work in a management supervisory capacity in a variety of childcare services and/or start their own business in the childcare sector. This course is ideal for those aspiring to supervise and manage in the childcare field. Childcare is a growth area at the moment and so employment prospects are good. As and from September 2015, all team leaders in Early Childhood Services must have a Level 6 (or equivalent) qualification in Early Childhood Care and Education
Further Details
Qualification: QQI (FETAC) Level 6 Major Award (120 credits)
QQI Course Code: 6M2007
Day(s):To Be Confirmed
Time(s): To Be Confirmed
Location: CTI Senior College, Clonmel
Type: Full Time
Duration: 1 academic year
Start Date: September 2017
---
Course Content
Child Development
Early Childhood Curriculum
Childhood Social, Legal and Health Studies
Work Experience
Team Leadership
Supervision in Early Childhood Care and Education
Creative Studies for Special Needs
Early Childhood Arts and Culture
Occupational First Aid
Manual Handling
HACCP
Entry Requirements:
Applicants must have a minimum of 4 Merits in relevant FETAC/QQI components, or equivalents, or relevant work experience and should have previous work experience working in an ECCE setting.
Candidates must be in a position to obtain Garda Clearance.Successful completion of interview.
Candidates must supply two written character/work related references.
Students must also obtain practical work experience in a HSE recognised childcare facility one day per week.
Entry to course is by interview.
Candidates are required to have basic IT skills.
---
How to Apply:
Applications are now being accepted for September 2017. Click on the link below to apply:Open for Applications Apply Here
---
Progression:
Employment in a variety of education/care settings within the Irish childcare sector. Careers as Creche Supervisor, Room Leader, Pre-School Supervisor/Room Leader, Playgroup Supervisor/Leader, After-School Supervisor/Leader, Start and run your own Childcare business. Successful completion of this course may facilitate exemption from the first year of specific degree programmes
Contact Details
Name: Emma McGrath
Tel: (052) 612 6269
Email: adulted@tipperaryetb.ie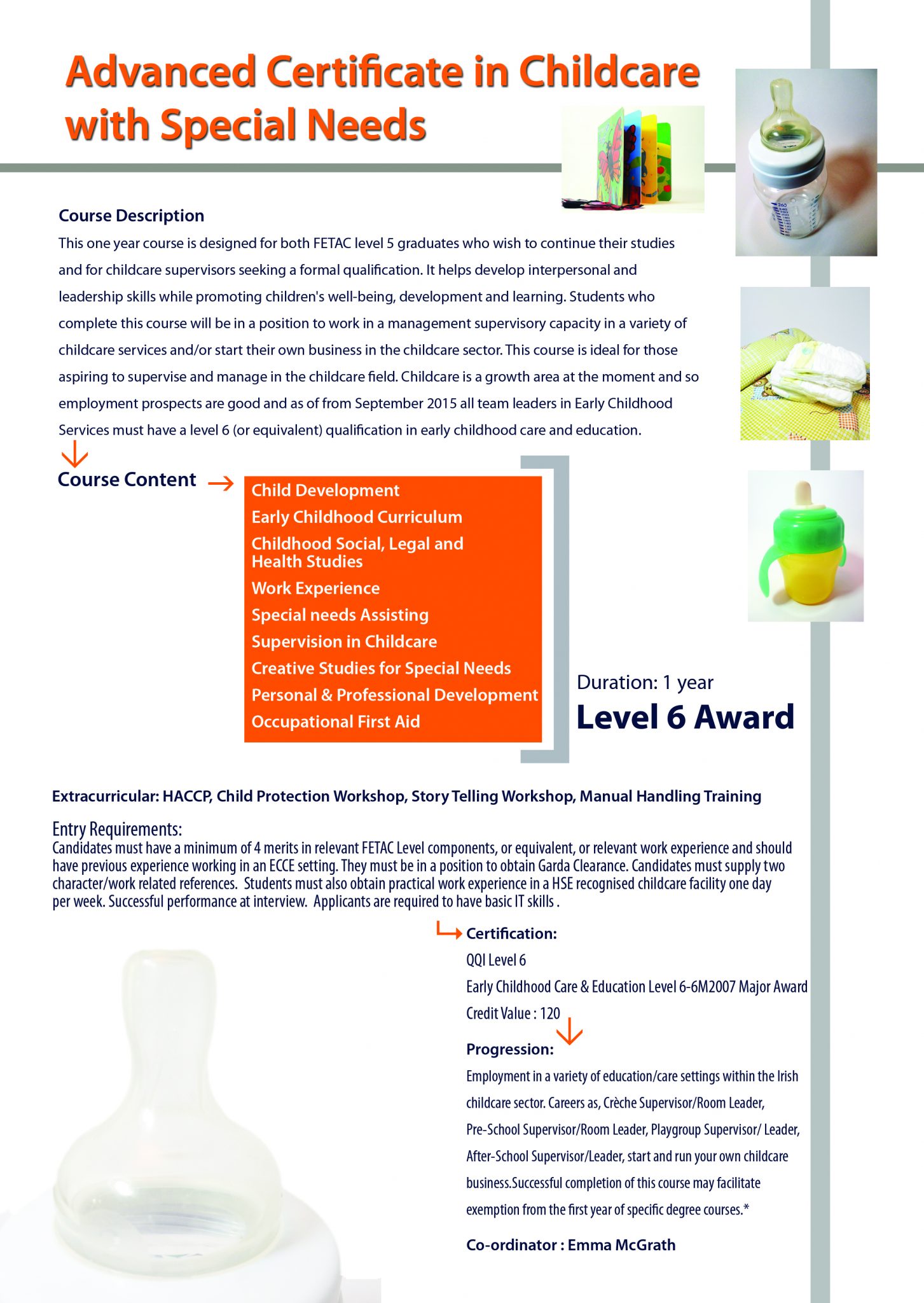 ---